Monday October 17, 1966
It's no fun to be driving into Paris at the start of the rush hour, on a cold and stormy Monday morning in a car that had been built to be driven on the opposite side of the road. Especially when you have had no sleep, having spent the night crossing the English Channel on a tossing car ferry.
This was my lot over 50 years ago, Monday October 17, 1966. I was still working with Julie Driscoll, Brian Auger and The Trinity and we were in France for a concert with Johnny Halliday, who had been France's top musical idol since 1960.
We had left London the previous night to drive to Dover, the closest cross-channel port to France. As we boarded the ferry, the Brit immigration guy had been so amazed that I had committed my passport number to memory that he called out to his colleagues: 
" 'Ey, there's a bloke here who's actually memorized his passport number!"
I was driving Brian's car, a white VW hatchback, accompanied by drummer Clive Thacker. The others had gone with Eric Brooks our roadie, Brian wanting to make sure there were no hassles with French customs over our equipment in those pre-Schengen days.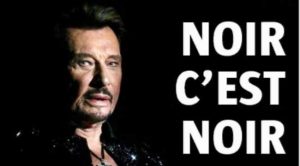 Earlier that year, Brian and I had recorded an album with Johnny in London, La Generation Perdue (The Lost Generation). The album had since been released and was climbing the charts. One of the songs, Noir c'est Noir, a cover of the Los Bravos' hit, "Black is Black", was making waves on the singles charts. This concert was to promote the album, which had been produced by Brian and Julie's manager, Giorgio Gomelsky.
The upcoming concert – also to be produced by Giorgio – was to take place at the famed Paris landmark, L'Olympia Music Hall. I was vaguely aware that Jimi Hendrix was on the bill but it had no special meaning for me. 
I had no special feelings about the gig other than the fact that I loved going to Paris to eat and to drink. As a budding gourmet and wine connoisseur, I used to think that Paris was the greatest place on Earth.

 

L'Olympia occupied a place in Parisian culture on a par with The Palladium in London and Radio City Music Hall in New York.

 
Founded in 1888, the Olympia played host to a variety of entertainment including circuses, ballets, and operettas. From 1929 until 1944 it served as a movie theater. In 1945 after the Liberation, it became a music hall free to Allied troops in uniform. 
Édith Piaf achieved great acclaim at the Olympia. Before coming to America, the Beatles performed eighteen days (January 16 – February 4, 1964) of concerts at the Olympia Theatre, playing two and sometimes three shows a day. On May 3–4, 1972, The Grateful Dead played two concerts there as part of their first major European tour. 
This was all well and good but I had a problem. I had absolutely no idea where it was – other than it was on La Rue Caumartin – I had no map and no directions.
On a miserable morning, blustery, rainy and cold with high winds, I had already had my first encounter with Gallic cynicism in the pre-dawn greyness. Stopping at a gas station on l'autoroute (freeway), I had remarked to the attendant, "C'est froid!" (It's cold!). He said nothing, taking my money with the kind of barely concealed contempt that the French reserve for those who mangle their cherished language. As I drove down the freeway, I realized that I should have said "Il fait froid!" (literally; It makes cold!), which is what the French say when describing the weather.
I don't actually remember how we found the theater. I tried asking a gendarme (French cop) for directions but he made it clear that we were too far from the city center and told me to just keep driving.
When we did make it to L'Olympia – which mercifully was already open – all we wanted to do was to get to our hotel and crash, which we soon did. Only to be awakened two hours later by Giorgio Gomelsky who insisted we had to come and rehearse. Grumbling and unhappy we got up and crossed the street back to the theatre.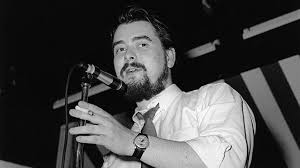 Giorgio was also Johnny Halliday's record producer and was producing this show, so he had a great deal invested in this whole program. 
It would not be an exaggeration to say that he was legendary figure on the London music scene. Giorgio was a Russian with a Swiss passport. He was fluent in English, French, Spanish and German (but not Russian). He looked like Rasputin and cultivated the image. 
Well, in researching this article I came to find out that Giorgio was in fact from Georgia and had grown up in Switzerland.
You could find him every night in whichever club was in favour at that time (just then it was The Scotch), hunched over a table, chain smoking Gauloise cigarettes, surrounded by empty glasses and bottles and in deep discussion with any number of rock luminaries. He was full of fantastic ideas which he would pursue passionately or drop in an instant. He would help out anyone who's music or philosophy he believed in, often at his own expense without thought of any profit for himself.
The bill for the concert was like this:
Johnny Halliday's backing band – Les Blackburds (I know, I know, but that was how they spelt it) – would open the show, also featuring singer songwriter Long Chris (more on him shortly).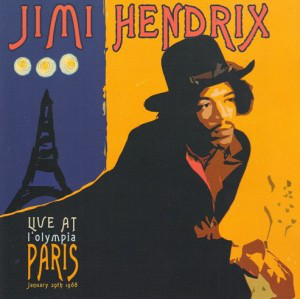 Then would be the Jimi Hendrix Experience. Yes, in only three weeks, Jimi now had a band – with a very distinctive name. To close the first half would be Julie Driscoll, Brian Auger, and The Trinity. Les Blackburds, Long Chris and Jimi would come on for the last number, along with some dancers. The second half of the show would be devoted to Johnny with his band.
By the time we dressed and got to the theater, all the principals had assembled with the exception of Johnny who would arrive later, although his manager/brother Lee Halliday was there. Lee spoke quite good English with an American accent and I used to enjoy talking to him.
In researching this article, I found out that Lee was actually Johnny's uncle by marriage. And the reason why he spoke such good English with an American accent was because he was an expatriate Oklahoman. Hallyday was actually his stage name which Johnny had taken.
Jimi Hendrix was there and we chatted. He had spent the previous week or so on tour with Johnny Halliday. In only a few days, Chas had found Mitch Mitchell and Noel Redding and created the Jimi Herndrix Experience.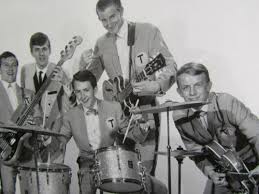 I was particularly excited to see Jimi's new drummer, Mitch Mitchell. I had known Mitch since 1962 – he was one of Jim Marshall's drum students – and we had briefly been in a band together back then. In the pic Mitch is in front with the drums; I am on the right.
Mitch introduced me to Noel Redding. I wasn't very taken with Noel at first although I got friendlier with him later. The fact that I had gone into one of L'Olympia's bathrooms and seen "Noel was here" written on the wall in pencil did not impress me.
Chas Chandler was there along with Michael Jeffrey, manager of The Animals and co-manager – with Chas – of Jimi. 
I reconnected with the two Brit members of Les Blackburds, whom I had first met at Johnny's recording sessions in London. Drummer Tommy Brown had played with legendary early 60s Brit rock band Nero and The Gladiators and, yes, they used to perform wearing Roman outfits. Such was the state of the music business in Britain back then. Guitarist Mick Jones would later go on to lead the band Foreigner.
Singer/songwriter Long Chris was a tall, skinny guy who would perform with Les Blackburds, although I never did quite understand his relationship with Johnny and the band. One of the thing he used to do was to recite a short poem that was a French version of "Twas a dark and stormy night". He could recite it at breakneck speed – which he would do in the middle of one of Les Blackburds' instrumentals.
Just for fun, I asked him to teach it to me – in French – which he did. I still remember it today. I'll spare you my French but the translation went like this:
In the Forest of Brabon, there was a band of brigands whose chief was called Pipot.
Pipot's men were always saying "Pipot, Pipot, tell us a story",
So Pipot began: "In the Forest of Brabon, etc.
We spent the rest of the day at L'Olympia, mostly hanging around and occasionally getting up on stage to rehearse something or other under Giorgio's direction.
Around dinner time Giorgio finally declared that we were done for the day and we headed out for some fine French food and wine, as well as some badly needed sleep.
The next day would be more rehearsal and finally, the show.