In August 2019, for the first time, I drove through Dealey Plaza, in Dallas, TX. This was the location of the assassination of President John F. Kennedy on November 22nd, 1963.
It felt particularly poignant coming to this place on a day when our nation is in shock and mourning victims of more senseless violence.
Like most people of my age, I remember only too well where I was when I heard of that heinous act. On that Friday I was with a band, playing a gig at a town called Banbury in England. Although we, and probably most of the audience, were in shock, we went ahead with the gig. I remember unimportant details of that night all too well. It was as if my mind was traumatized into a state of hyper-remembrance.
President Kennedy and his wife had visited the UK two years earlier, in June of 1961, and Britain, encouraged by the media, had gone slightly gaga over Jack and Jackie, especially the glamorous First Lady.
I lived near Heathrow Airport and was driving to a gig the evening they flew in. The route their motorcade would have driven towards downtown London was lined with hundreds of people, anxious for a glimpse of Camelot on the Potomac.
I believe the love the British people had for the Kennedys made that egregious act of assassination all the more shocking and heart rending to them.
I drove home that night with two other musicians, with the radio tuned in to American Forces Network. I imagine they were getting a feed from one of the major radio networks in the US. We were hearing the kind of wall-to-wall coverage that was foreign to we Brits. (OK, OK, I know I am an American, but that night everything that was happening felt foreign and distant. My American heritage was very far from my mind). We were used to the staid reporting of the BBC; this constant barrage of news seemed over-the-top and disturbing, as well as fear-inducing. I felt very upset and could hardly handle the energy.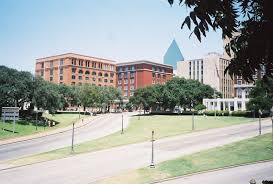 In those early hours after the event, there was speculation that maybe the Russians had a hand in Kennedy's murder and that all this was a prelude to war, especially since it had only been a year since the Cuban Missile Crisis.
This event stayed in my awareness so much that, in 1967, while I was working with The Animals, when we flew into Love Field Airport in Dallas, I was painfully aware that this was where Airforce One had landed on that day and that it was from here that Lyndon Johnson flew out, no longer as vice president, but having been sworn in to the higher office.
From the time we left our daughter's home in Arlington that day, knowing where we were going, my mind was full of the events of that day and of so much – relevant to that tragedy – that has happened since. So many stories, so many theories, so much confusion and pain. The loss of innocence for an entire generation.
As we drove through downtown Dallas, on a hot Sunday afternoon, the streets were relatively quiet. Our son-in-law informed us that we were now taking the same route that the president's motorcade had taken on that fateful day.
We passed the John F. Kennedy Memorial, built many years after his death, and, suddenly, there it all was. 
Dealey Plaza, the Texas School Book Depository (now renamed), the railroad bridge, the Grassy Knoll. How familiar it all was, even though I had never set eyes on the place before.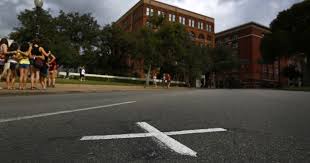 And in the middle of the road, two large white crosses. Our daughter tells me these mark the exact spots where the assassins' bullets hit the president. The crosses are apparently not official, the city occasionally removes them. When that happens, they are always restored by person or persons unknown.
I don't think I can put my feelings into words. Sadness, shock, a sense of how different things might have been. Above all was a sense of tragedy.
When we returned to our daughter's home, I could not rest or relax. I had to (digitally) set pen to paper.
I dedicate these words to the memory of President John Fitzgerald Kennedy and First Lady Jaqueline Bouvier Kennedy (later Onassis).