Magic Moments in the Summer of Love #4
– Recording with Paul McCartney
Chris Barber was a legendary figure on the Brit music scene. In 1967, he was 37, much older than the rest of we rock musicians.
He mostly played trombone, although he dabbled in other instruments, and was a seminal figure on the early Brit Trad Jazz (Dixieland) scene from the early 50s onwards.
It was his 1955 recording of Rock Island Line – featuring Lonnie Donegan on vocals – that would become an international smash, ignite the Skiffle craze and make Lonnie a huge star.
In 1959 Barber's band's version of Sidney Bechet's Petite Fleur, charted at #5 in the US and spent twenty-four weeks in the UK charts, making it to No. 3 and selling over one million copies.
Chris was a very personable fellow and, unlike other jazzers of the time, was very open minded in his musical tastes.
I got to know Chris when I was working with Dusty Springfield and, from then on, whenever he spotted me at one of his gigs, Chris would blast out a phrase from Dusty's hit Middle of Nowhere from the stage, on his trombone, .
Right after I returned from San Francisco, I learned that Chris and the band would be recording a Paul McCartney composition at Chappell Studios on Bond Street, Giorgio Gomelsky's favorite studio. Since Giorgio would be producing the record for his own Marmalade label, it was hardly surprising that the session would take place there.
Giorgio had asked Brian Auger to play Hammond Organ for the date so, even though I would only be there as a bystander, I would be among friends.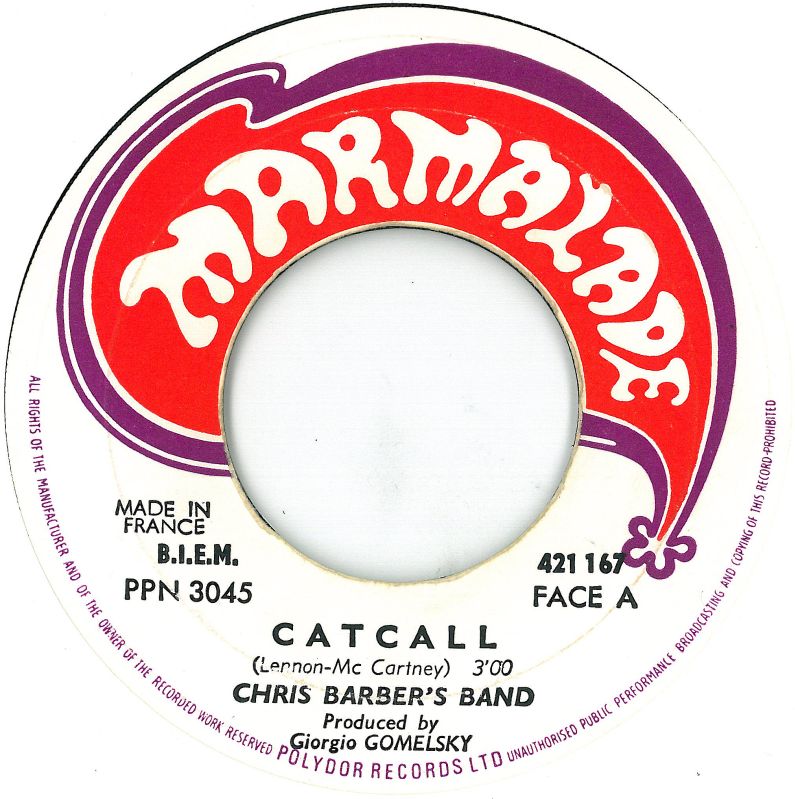 The song was an instrumental that Paul had written for the Beatles, called Catwalk. For Chris Barber's recording it would be renamed Catcall.
As you can hear from the video, it was a fun session. At 2:00 in the video, you can hear Giorgio Gomelsky call out "Please play slower!"
After the session a group of us went over to the Speakeasy, on of the "in-clubs" of that era. I got a chance to ask Paul if he remembered the time in 1961 when I came to the Cavern Club in Liverpool with The Echoes.
"Oh yes," he said. "I remember that."
Catcall by the Chris Barber band was released as a single in the UK on 20 October 1967, but never charted.
As I write (August 2019), Chris Barber is 89 years old and still touring and playing gigs. His website is showing gigs in UK, France, Germany and Holland through October 2019.
You can hear the track here: https://www.youtube.com/watch?v=JyJ3_PiOWG0