RARE  MEDITATIVE  MUSICAL OPPORTUNITY!
Aloha friends! We are on our beloved island of Kauai for one more week, inspired to be presenting Sikh Sacred Gurbani Kirtan – outside the temples for almost the first time ever. We lived on Kauai for 13 years leading Sacred Sound Celebrations weekly in our yurt in Kilauea and home in Anahola.
I will present in Kilauea Gurbani Kirtan, spiritual music and singing to honor Guru Nanak.
This will be held in a very special,  inspiring and beautiful space, Garden Ponds, a business  run by our dear friends Ken and Jan Bernard with their son Jake, all well known and loved on Kauai. They are world experts in the art of  creating magnificent water gardens, ponds filled with gorgeous water lillies, lotuses and fish, and surrounded with awesome sacred statues, and they love to share and teach everything they know.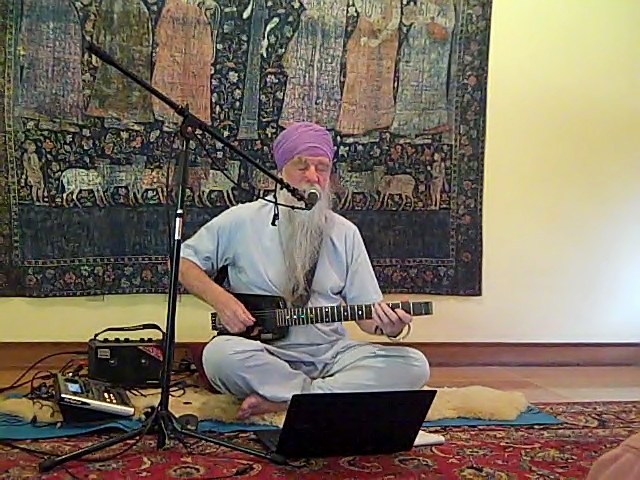 This is an outdoor but covered location. There will be no food and drink so bring your own water bottle, mosquito repellent, flashlight, warm clothes in case of wind. Bring a cushion for traditional floor sitting, and chairs will be provided. Dress for your own comfort and joy, no need for special dress, as Guru Nanak manifested on Earth as a pure channel of Divine Love, freely available to all, regardless of tradition, religion, ritual or dress codes, past or present.
This  is an opportunity to experience a hitherto secret tradition of meditative, ecstatic union through sacred sound. The Sanskrit-based words and language together with their dynamic soul-stirring melodies were created to engender spiritual evolution and reunion with our Divine Selves, and with the Supreme Creator. Sikh Sacred Gurbani Kirtan is so divinely devotional and complex in its unique Sanskrit-based language, ragas and musical traditions that it has been rarely sung anywhere but in Sikh temples – so far! Now it is time, the world needs the high frequency of this inspiring music.
The compositions include Arabic and Persian poems from Sufi, Islamic and Hindu saints such as Kabir. The melodies are in the tradition of Shastriya Sangeet (Indian Classical Music) using Ragas, a system of musical modes and scales designed for specific times of day and to evoke different emotions.
A musician who masters this art is called a Ragi. The deeper meanings of the sounds, words, songs and stories – derived from a tradition of courage, devotion and sacrifice – are translated and interpreted by myself.
Sunday, November 10th, 5.00-6.30pm
5-2719 Kuhio Hwy #101, Kilauea HI 96754   
Near the mini golf, Anaina Hou, and behind Banana Joes and the Chocolate Factory.
Phone 808-828-6400