I promised you some magic moments from summer 1967, also known as the Summer of Love. Here's: Magic Moments in the Summer of Love #1 – The Isley Brothers
During the mid-60s, American R&B music became very popular in the UK. Originally, Brit artists would cover great R&B songs that stood no chance of radio play on the BBC and get hits with them. Like Wayne Fontana's cover of Major Lance's Um, Um, Um, Um, Um, Um, or The Swinging Blue Jeans' cover of Betty Everett's You're No Good. Even The Animals had a hit with Sam Cooke's Bring it on Home to Me.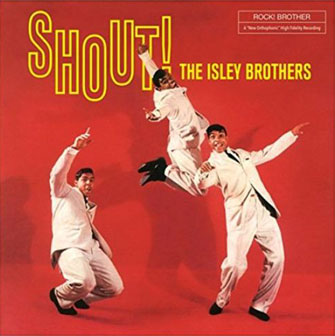 In 1964, singer Lulu had released several singles which were covers of US R&B hits. The most successful of these was a reworking of the Isley Brothers' Shout, which went to #7 on the Brit charts.
Brit music fans were becoming hipper. Some promoters realized that there was a market for US R&B acts in the UK and started bringing them over. It was tough on the artists. The promoter would offer a lump sum for a series of dates and then book the artist out is such a way that there might be two or even three gigs a night. You could do that in England because the major cities are generally so close together, unlike the US.
One act that came to London in the summer of '67 was The Isley Brothers. I was quite surprised that a promoter had booked them in, considering that the only chart success they had in Britain was This Old Heart of Mine which had peaked at #23 in 1966.
I had known about the Isleys since I had heard their powerful single, and first million seller, Shout. I had also loved their Twist and Shout, from where the Beatles copped their version. On a personal note, while I concede that the Beatles' version is a good record, I have always considered the Isleys' to be far superior.
The Beatles themselves conceded that their signature "wooo" (I Saw Her Standing There, She Loves You, etc.), they cribbed from the Isleys.
I wasn't intending to go see the Isley Brothers. I didn't much like most of the clubs where they were playing. I was surprised when a friend told me that they were going to be doing a BBC recording at the theatre/studio the BBC operated near London's Charing Cross Station.
I knew the place well. I had attended many broadcasts and also recorded there. It was a well-appointed place, a smallish theatre with an adequate stage and comfortable seats. The sound booth was way in the back behind the audience. There was a BBC-run snack bar upstairs with reasonably priced sandwiches and tea.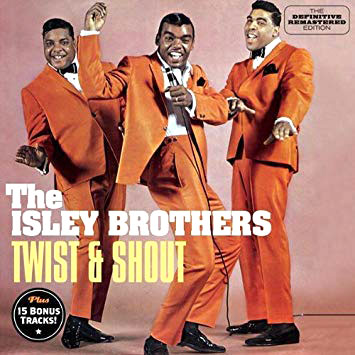 By now, I was somewhat of a "face on the scene". I strolled into the venue and plonked myself down in an empty seat, of which there were plenty, since this recording would be done – like most BBC music recording – with no audience. No one challenged my presence.
The musicians were already set up. I was underwhelmed with the band, the Alan Elsdon Group. Alan was a trumpet player who had come up in the "Trad Jazz" boom. He had played with several of the leading Trad bands and had eventually come to form his own group.
Trad, as it was called in Britain (short for Traditional Jazz, what Americans would call Dixieland) had been hugely popular in the UK in the 50's and early 60's. Now its popularity was on the wane and Alan, seeing the writing on the wall, had turned his band into an R&B outfit. I was unimpressed.
Finally, the Isleys came in. This was the original trio with O'Kelly Isley Jr., Rudolph and Ronald, who was the lead singer. They also looked unimpressed, very unimpressed.
They were obviously exhausted from touring and, since it was early afternoon, had likely only just gotten up. They looked negative; they looked unhappy. I suspected that they were also distressed because there was no audience, no atmosphere and no inspiration. Not a great start to the proceedings.
Despite everything, their handlers finally persuaded them to commence the recording. They sat, slumped in chairs, looking dejected and waiting for the red light.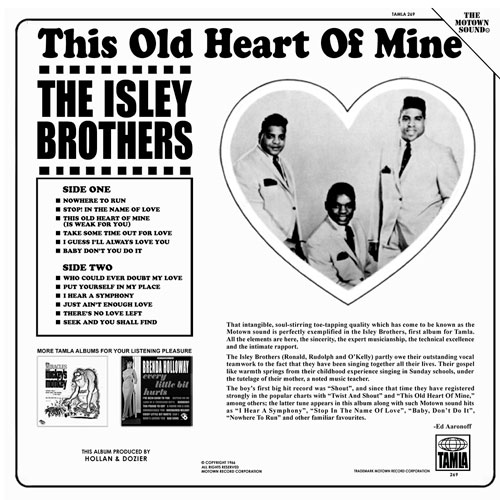 As the first song played, they began to sing, just going through the motions. But they couldn't help themselves. As the song progressed, their brilliance began to shine through, as did their innate enthusiasm and soul. By the end of the song, they were rocking, big time.
They did Shout; they did Twist and Shout. They did This Old Heart of Mine and other songs that I can't remember. With each song, they got better and better; their delivery became more and more soulful.
There was no audience, no stage lights, no dance moves, they weren't even standing up! Only the sheer power of the Isleys radiating from the stage and overwhelming the handful of people in the place.
At the end of the recording, they stood up and looked every inch the superstars that they were, with beaming faces dripping with sweat. There was so much soul exuding from that stage. Then they had to leave for their next round of gigs.
A musical moment I will always treasure. I felt so privileged to have been there.
And the band did quite well.