August 11th, 1967
I had returned from California to London to find the Brit version of the "Summer of Love" in full swing.
On August 11th, we played the Friday night session of the national Jazz and Blues Festival. I had played this festival in 1965 with Steampacket at the Richmond Athletic Grounds. In 1966, the festival moved to Windsor.
It was a popular festival, although the Jazz content was quickly being phased out, in favour of crowd-attracting rock acts.
Worth noting is the debut of a band then called Peter Green's Fleetwood Mac, who played on Sunday 13th. It was the first gig of what would eventually be known as just Fleetwood Mac.
We had a good night and went down well. The crowd was eclectic enough. Many people adopting hippy garb, along with the inevitable beads and flowers. I remember a good solid gig but, other than that, the festival holds no memories for me.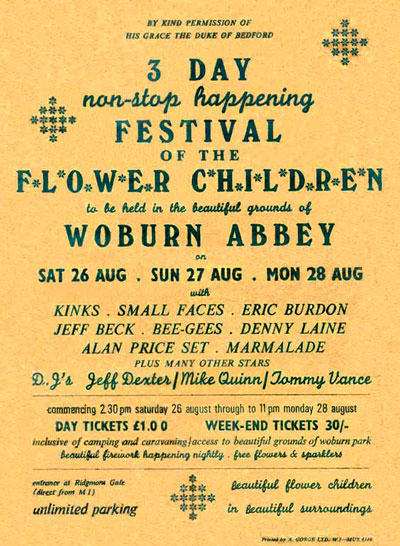 Two weeks later, Sunday August 24th, another festival. This time, clearly intended to be a hippy bash. With a name like Festival of the Flower Children, how could it not be.
There's a footnote on the festival flyer which says:
"The Most Beautiful Flower Children in the Most Beautiful Surroundings."
Okay.
The venue for this festival was Woburn Abbey, what the Brits call a "Stately Home", as unlikely a venue for a hippy bash as one could imagine.
Woburn, in 1967, was the home of the 13th Duke of Bedford, also known as John Ian Robert Russell (or Ian Russell, for short). Upon the death of his father (the 12th Duke, of course), he had inherited his father's enormous mansion and estates. He had also inherited millions of pounds of debt to the UK government from death duties, plus the abbey itself was half demolished, owing to dry rot.
The standard procedure for aristocrats in this not so unusual situation was to relinquish the property and estates to the national Trust, effectively turning it over to the government.
Russell decided on a unique solution to his financial woes. He decided to open his home and estates to the public as a tourist attraction. This was an unprecedented act which earned him the ire of other aristocrats, who considered it pandering to the peasants. Russell's response was to say "I do not relish the scorn of the peerage, but is better to be looked down on than to be overlooked."
While Merriam Webster defines Stately Home as: "a large and impressive old home that has an interesting history and that can usually be visited by the public", it's worth noting that, before Ian Russell opened his home to the public, very few if any of these buildings were open to visit. This is why the rest of the aristocracy were so incensed.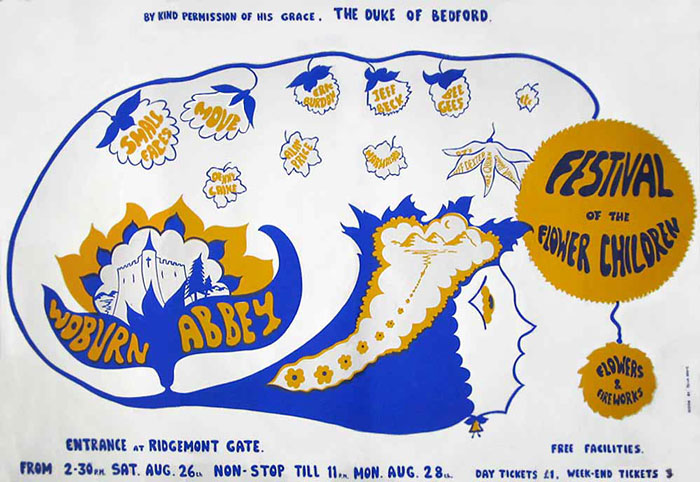 Under Russell's direction, Woburn Abbey became a successful tourist attraction and remains so to this day.
The last weekend in August is an official three day weekend in the UK (August Bank Holiday). This allowed the festival to have three full days of music, whereas the Windsor Festival, two weeks previously, only had Friday night, plus two full days on Saturday and Sunday..
The Festival of the Flower Children was likely the apogee of the British Summer of Love. In London, at the end of August, there is already a touch of autumn in the air. The time for festivals is fast drawing to a close. In most of California, it's possible to have outdoor gatherings year round; in Britain, well, good luck with that.
I don't know if there was any sense amongst the hippy multitudes that this might be a grand finale. In my mind, I wasn't thinking about that. I was focusing on the fact that we would be back in the US within 5 weeks and California in 6.
There was a certain uniqueness about this event. It was unashamedly billed as being a hippy event. The bands, while not all psychedelic, featured some that were very much so, like Dantalian's Chariot and Tomorrow.
Also The Animals. We had morphed into full psychedelia. We dressed like a California hippy band (albeit with some Brit-hippy flourishes) and were sounding more and more like one.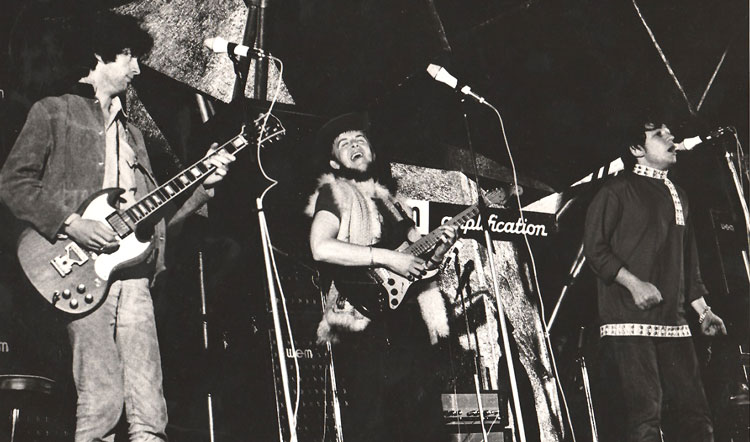 Even the bands that were not associated with the counter culture (like The Bee Gees) would appear with longer hair and exotic clothes.
It was a major opportunity for those who identified themselves as hippies – or flower children – to come out in full regalia, to see and be seen.
From an unidentified press clipping:
"Eric Burdon and The Animals were the star attraction on Sunday night. Eric treated us to a few songs and a little sermon about how we should all love each other.

"Everyone cheered politely and Eric then sang San Franciscan Nights, House of the Rising Sun and several other numbers."
What the reporter doesn't mention is that Eric dedicated our performance to the memory of Brian Epstein.
Right before we were due to leave for Woburn Abbey, Eric received the news of Brian's death. I had never met him, but Eric was close with Brian and had a very high opinion of him as a human being. Eric was as upset as I ever saw him. He was clearly shocked and saddened by the tragedy.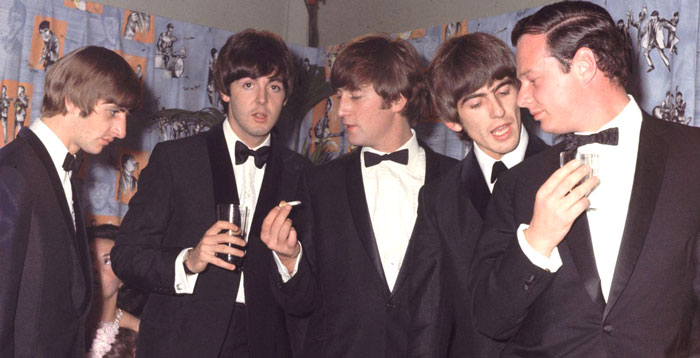 When Eric broke the news from the stage to the crowd, there was a shocked silence. Even though no longer performing, The Beatles were an integral and vital part of the consciousness of that summer. People understood what Brian had done for the band.
In spite of his pain Eric, along with the rest of us, turned in a stellar performance that night. There is still a video of the festival, an extract from a ragtag film called Rock City, which can be seen on the internet, featuring Eric singing Hey Gyp, with a (very) brief glimpse of me at the end. It was a very satisfying performance.