June 27th, 1967.
Meanwhile, in spite of my euphoric discovery of Northern California, there was a gig to be played. We opened at the Fillmore Auditorium on Tuesday June 27th 1967, and would play 6 nights, until the following Sunday. We were second on the bill after Chuck Berry. The Steve Miller Band were also featured and would support Chuck.
Each band played two sets, with Steve Miller kicking the night off. Then we would play, with Steve coming on again to back Chuck Berry. After Chuck, Steve and band would stay on stage to play their own set. Then we would come on again, and Steve closed the night with Chuck. A long night for Steve and his guys but they seemed to genuinely enjoy playing with Chuck, who could be difficult if he didn't like his backup band – or for any other of a number of reasons.
Eric had a less than stellar opinion of Chuck Berry. He related that, a few years previously, the Animals had done a tour in the UK with Chuck and some other Brit bands. All the groups had been enthusiastic about working with Chuck, having been very influenced by his music. Chuck, however, had turned out to be somewhat prickly to work with; the other musicians on the tour would find their patience wearing thin.
We saw little of Chuck that week except when he was on stage. I don't remember ever talking to him as he kept his distance from us. Steve Miller, on the other hand was extremely friendly. He invited me over and we spent some time hanging at his Haight-Ashbury apartment. Boz Scaggs, who was working with Steve at that time, also hung with us. I was delighted when Boz had his hit with Dirty Lowdown in the 70's, not only because I loved the record, but also because he seemed like a genuinely nice guy.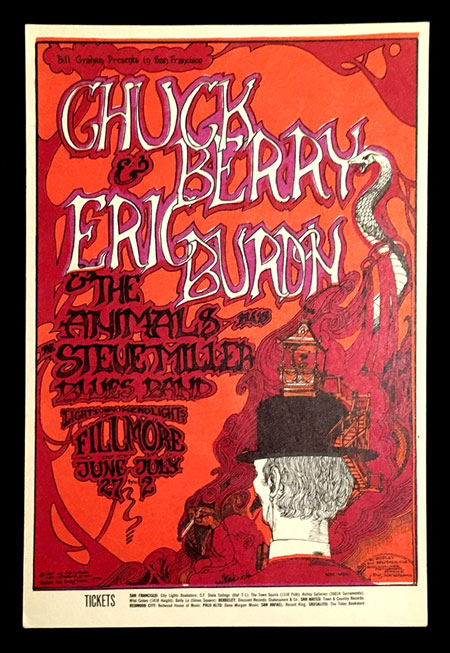 The poster for this series of shows was done in the classic Fillmore psychedelic style by Greg Irons, one of the several artists who would produce artwork for the venue. These have now become classics and fetch a high price for originals. I used to have the posters for all our Fillmore dates. They would probably be worth a fortune now. (see pic)
Hearing the name "Fillmore" now, evokes a glamorous aura of the days of the 60s and 70s. Yet there was very little glamorous about the place and the neighborhood when you saw it in the daylight. The Fillmore was a funky old dance palace, originally built in 1912 and had been operated as the Ambassador Roller Rink from 1939 until 1952. It was located in San Francisco's black Fillmore district, from whence it got its official name, the Fillmore Auditorium.
In the 40s and 50s, there was a vibrant jazz scene centered around the many clubs that existed then along Fillmore Street. By the 60s, the neighborhood had become run down and seedy. Since then, there have been various urban renewal projects. Music and nightlife – especially jazz – are now thriving there again. The Fillmore Auditorium is still functioning as a major concert venue, although the name has been franchised and there are now Fillmore Auditoria in Denver, Detroit, Miami, Charlotte, Silver Spring and Philadelphia, with others coming soon.
Entering the venue, you would find a wide stairway, leading from the entry up to the ballroom itself, which was on a higher level than the street. Entering into the auditorium, your senses would be assailed by an ongoing psychedelic light show. The Fillmore light show was reckoned to be one of the best and, considering the primitive technology of the time, was mind blowing – quite overwhelming.
Light shows, in those pre-computer days had just a few weapons in their arsenal, which they used effectively. Their main tool was the overhead projector, the kind used back then to project written material onto a screen. The light show operators would take two glass laboratory dishes, squeeze globs of colored oil between the dishes and vibrate them in time to the music. The result would be huge multi colored amoeba projected across the stage, pulsating in time to the beat of the drums. Two or three of these going at the same time could produce an instant mind-fuck.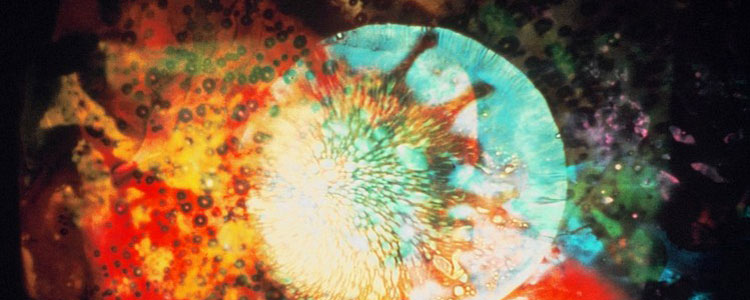 They also used a movie projector or two to project 16mm film loops across the stage. The subject material might be irreverent, funny, slightly obscene, abstract or just plain XXX rated. They would also project slides using the same kinds of material. The Fillmore light show had all of these things, plus a strobe light near the stage which would occasionally go on making the dancers appear in freeze-frame effect. The overall effect was indescribable and could be stunning, especially to those who were under the influence, which was just about everybody in those days.
Without the benefit of the light show, the Fillmore was dirty and funky. It was dark and the dressing rooms were terrible. But the best bands in the world loved playing there. Why?
Because the audience was just simply the hippest, most appreciative, the most we-don't-mind-if-you-try-out-new-things-that-you-really-want-to-play-but-no-one-else-will-stand-to-listen-to-them audience in the whole world.
The bill at the Fillmore was always eclectic, sometimes wildy so. In July of that year, for example, the Paul Butterfield Blues Band would top the bill with Rahsaan Roland Kirk as the second attraction. No promoter in their right mind would put Paul Butterfield on with Rahsaan Roland Kirk. But Bill Graham would. And it would work.
Bill, who ran the place with an iron hand, was already a legend in the music business . Born to a Jewish family in Germany in 1931, he was able to escape the Nazis in 1939. Two years later was placed with a foster care family in the Bronx, New York, where he grew up.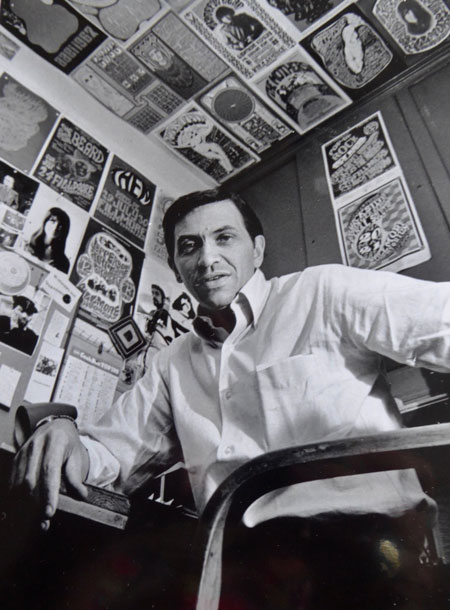 After serving in Korea with the US Army, he worked as a waiter/maître d' in Catskill Mountain resorts in upstate New York during their heyday. Latin great, Tito Puente, who played some of these resorts, went on record saying that Graham was avid to learn Spanish from him, but only cared about the curse words. I found this amusing since Bill was one of the great cursers of all time, liberally sprinkling each sentence with four-letter invective.
Bill was gruff, up front, in your face, irreverent and forceful in his delivery.
He was also noted for being vehement about not allowing freebees into any of his venues, not just the Fillmore. There was a guest list but woe betide you if you were not on the list, no matter how high your standing in the world of rock. Someone once drew a cartoon of Bill standing at the top of the entry staircase of the Fillmore, saying: "But Mom, if I let you in, the whole family's going to want to come in for free!"
Bill had highly eclectic musical tastes. He delighted in creating shows using groups onstage from different ethnic and musical backgrounds. He also knew that the Fillmore crowd, while they might not come to see a jazz stalwart like Kirk, if he paired them with an established rock or blues act, the crowd would assuredly give the artists a fair shake and probably even enjoy them. The fact that the audience would overwhelmingly be high would help a great deal.
On August 15th,shortly after we played there, Bill Graham had Chuck Berry, the Count Basie Orchestra, the Charles Lloyd Quartet, the Young Rascals and the Steve Miller Band, all on the same show. Now that is an eclectic bill.
I never saw Eric so relaxed on stage as he was when we played there, not before, not after. He would often bring his notebook up onstage and read his poetry between songs. Eric had a dream once about Roland Kirk and Sonny Boy Williamson playing together – two musicians who he idolized but from very different genres. He had written a poem about his dream and read it one night on stage. The crowd got it and applauded loudly, laughing out loud when he talked about Roland and Sonny Boy jamming.
It was here that our song San Franciscan Nights came into its own. Although it had not yet been released, we played it and people loved it. Eric would do it differently each night and throw in some improvisation here and there. For example, on the record, at the end of the bridge, just before the instrumental break, he sings in his lower register, "San Francisco". Often, instead of doing that, he would yell at the top of his lungs "Get stoned", which the audience always applauded.
Playing the Fillmore was a blast, a wonderfully enlightening experience. It was a joy to feel that one's music was being so truly appreciated. All of us were amazed that an audience could be so hip and understanding. Plus I was getting a real education in hippy culture from the Dead.
I also got the chance to get to know some of the Bay Area musicians. Janis Joplin was in to see us almost every night and I shared many swigs out of her ever present bottle of Southern Comfort. Country Joe McDonald came in to see us and talk about what he was doing with his band. Bill Kreutzman and Phil Lesh came down to see us a couple of times and told me how much they enjoyed the band which was very gratifying for me. It was a very social and relaxed scene.