June 24th, 1967.
We were in LA, having played the Monterey Pop Festival the previous weekend and staying in a hotel on the fabled Sunset Strip.
The trip to Monterey had been hurriedly arranged. The Festival had been a charity gig, a freebee – although we got first-class tickets between London and the West Coast. Now we needed some more work in the US so we could at least break even on the trip.
Once again, our man-in-LA, Kevin Deverich came through for us. We would play two legendary California gigs for the first time – the Fillmore Ballroom in San Francisco and the Whiskey a Gogo, the fabled Sunset Strip disco in Hollywood.
Our first post-Monterey gig, though, was also on Sunset Boulevard; just a few miles further east. Still in Hollywood but much closer to downtown LA.
Opened in 1938, the Earl Carroll Theater – at 6230 Sunset Boulevard – was a major gathering place for the glitterati during the golden days of the Hollywood Movie Studios.
Closing after Earl Carroll's death in 1948, the venue passed through a number of iterations.
In 1968 it was redecorated in psychedelic art style and renamed as the the "Aquarius Theater". It then became the home of a long-running Los Angeles production of the Broadway musical Hair.
Before that, though, it was opened as a rock music venue called "Kaleidoscope". Its opening night was on Saturday, June 24th 1967, exactly one week after the Monterey Pop Festival; its opening night act was none other than Eric Burdon and The Animals.
I believe the show went well, although I hardly remember. It was when we were back at our Sunset Strip hotel that my adventure – perhaps the most bizarre experience of my psychedelic days – began.
A few visitors came around. One of these was a lady who was very pregnant. I mean very, very pregnant. She and I started talking and hit it off.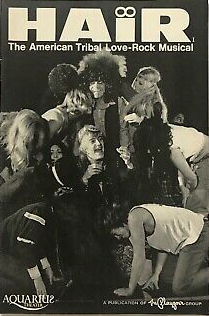 At that time, there was a psychedelic going around that had been named STP. Only today (2017) did I discover that this was the slang name for the long-lasting drug 2,5-dimethoxy-4-methylamphetamine, also known as DOM.
STP was readily available in the heyday of the Haight-Ashbury in San Francisco, in mid-1967. People used the name STP, which was said to stand for Serenity, Tranquility, and Peace. It was also claimed to represent Super Terrific Psychedelic. The police called it: Too Stupid to Puke. The name was taken from the initials of a well known motor additive which was completely unrelated chemically.
From whence this stuff came, I do not know but she and I took some. It was supposedly stronger than LSD and lasted MUCH longer.
Yes, yes, I know, this was an insane thing to do. But this was 1967 and we were all doing insane things.
She invited me back to her home, a house in the Wilshire district of LA that she shared with a bunch of other hippy kids. They were a good natured and friendly bunch. I accompanied her to her room and we lay on her bed, feeling the effects of this very strong psychedelic.
We spent what was left of the night at the house, tripping away. Just as dawn was coming up, she said to me, "I think I'm starting labor".
Right away, I knew I was in way over my head, but didn't know what to say. Some guys might have just baled at that time. My conscience would not let me.
"I've made arrangements at UCLA Medical Center. We need to go right away".
One of the other hippy kids bundled us into his VW van (what else?) and we drove to the UCLA Medical Center, which is a huge complex, not too far from Beverly Hills. The guy dropped us off and drove away in his van.
I was way out of it, wearing totally outrageous clothes and about to head into this very conservative hospital at 5.30 am on a Sunday morning.
We found our way to the reception area and she went to the desk to check in. Meanwhile I was told to "just sit over there". Which I did for what seemed like an eternity.
Finally, I plucked up enough courage to go over to the receptionist and ask what was going on. "Oh, she's in the delivery room". I was told. It was obviously time for me to get out of there.
I took the elevator back down but somehow missed the lobby. I found myself in the basement, lost in a maze of corridors, still very much tripping on this STP and feeling hugely vulnerable and paranoid.
Some swinging doors opened and half a dozen, blue-uniformed employees walked past me, chatting and laughing. They seemed unrealistically cheerful for 6am on a Sunday morning. Some of them gave me some strange looks but no one said anything. I surmised that they were part of the morning shift arriving for work.
After blundering around this underground complex for what seemed like hours – but was probably only about 10 minutes – I finally found an exit door to the street and walked out into blindingly bright sunshine.
Not knowing what else to do, I walked back to my hotel, a distance of about three miles. I remember thinking, while I was walking, "What was all that about?" My own mind was totally blown by what had just happened.
I spent the rest of the day crashed out. That was my first and last time for STP, which, by the way, lasted for about 36 hours.
Later I sent her a dozen red roses. It seemed like the decent thing to do.