That evening I ingested some of the purple-colored LSD that Augustus Owsley Stanley had brought to Monterey. Obviously this had a strong effect on my perception of the evening's events.
I couldn't handle being out in the crowd so I stayed in the clubroom behind the stage and watched the show on closed circuit TV.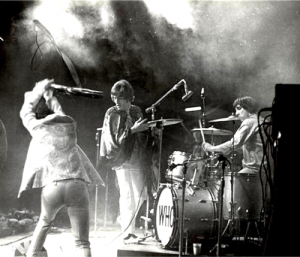 I was deeply affected by The Who's performance, but not in a positive way. Their performance was fine but, when they started to smash up their instruments, I was disgusted. It seemed wanton, senseless and childish. (See pic.)
I hoped that the Grateful Dead, who followed The Who, would lift my spirits but they were not having a good night. I believe that some of the ongoing tension between the LA and San Francisco people came to the fore with the Dead, and they didn't seem to be getting into their usual groove. Of course, the crowd loved The Who; it made for a difficult spot for the Dead.
Right after the Dead came Jimi Hendrix. I saw Jimi a couple of times under the influence of LSD and it was always unsettling. There was just so much raw energy flowing from him, most of it sexual.
I stood there and watched transfixed as Jimi and the boys went through their set. It was strong stuff and the crowd loved them. When Jimi burnt his guitar, I was overwhelmed.
I will concede that LSD often makes you read meanings into events and situations that are not necessarily there. Here's how Jimi's "guitar sacrifice" spoke to me.
Jimi was wearing a headband that made him look like a Native American. What I saw in Jimi burning his guitar was symbolic of humankind evolving from their so-called "primitive" origins (symbolized by his headband), to having the ability to destroy itself in the fire of nuclear holocaust (symbolized by the burning guitar). (See pic.)
That may not have been what Jimi intended but that's what I saw in my psychedelic state and it left a lasting impression on me.
A couple of months later I ran into Jimi somewhere and I asked him if he'd burnt up the guitar that I sold him. He looked at me, gave a funny little smile and said, "Hey man, don't believe everything you read in the papers".
After Jimi, out came the Mamas and Papas to close the show. I was pretty far gone by this time but, as I remember, their show was quite predictable. The only thing that surprised me was, when they sang Martha and The Vandellas' Dancin' in the Streets, they featured a guitar solo that seemed so mindless and unrelated to the song that I could only assume that someone thought it was "psychedelic". It seemed quite incongruous because the Mamas and Papas music was so middle of the road. I remember thinking "Boy, if the Mamas and Papas are doing this kind of stuff, psychedelia must really be happening".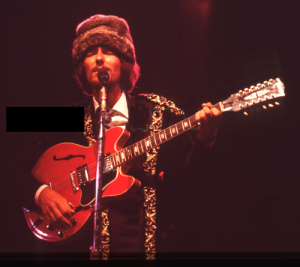 To close the evening John Phillips (see pic) brought out Scott Mackenzie to sing San Francisco (If you're going to San Francisco, be sure to wear some flowers in your hair). While this was a huge hit, it must have seemed like a slap in the face to the many San Francisco musicians present. Although the festival was organized by mostly Southern Californians, it was the whole hippy music scene that was based and nurtured in the San Francisco Bay Area that had made the atmosphere of cooperation and harmony of the Festival possible. And now here was a song about their beloved city being used to close the show. Although it had been a huge hit worldwide, it was written, conceived and recorded in LA.
I could hear murmurs of discontent coming from around the clubhouse. Pigpen, the original organ player and vocalist from the Grateful Dead, was standing right next to me and he was even more blunt in his comments. "Jesus Christ! Fuck off man!" he yelled at the closed-circuit TV screen. None of this, however, seemed to have any effect on the audience who cheered singer and song.
Before we left, I had an interesting lesson in perception. The fairgrounds soon emptied and we were trying to get it together to head back to our hotel, with all of us being in various states of psychedelic inebriation. I was waiting around outside the fairgrounds when I noticed a Sheriff's deputy looking at me very intently. Immediately I had the thought that he must know that I was on acid and was about to bust me. I became very paranoid. Within a second or two I realized that he wasn't even looking at me and that my experience had been a hallucination, heightened by the LSD, but created by my own mind through my paranoia. It was the first time I was able to see clearly the power of my emotions to color my perception.
The next morning we wandered around Monterey's Cannery Row, immortalized in John Steinbeck's books. At that time, it was a low-key tourist attraction; now it is anything but. I visited a gay-run bookstore, which turned out to be the first New Age bookstore I had ever been in. It wasn't called that as the term had not yet been coined.
We went to the Monterey Airport to catch our flight to LA, which turned out to be one star-studded flight including, as reported earlier, Ravi Shankar and Alla Rakha, as well as many other LA music business notables.
We checked in to a hotel, right on the Sunset Strip , within easy walking distance of any number of restaurants and, more importantly, the Whiskey a Gogo. It would be our Hollywood home-away-from-home for the next few weeks.
It had been an intense weekend. I went to bed in the late afternoon, not to surface until the following morning.