1967 was a very special year, for me as well as for the whole planet. My memories from that year are still vividly etched in my mind.
Two years ago, June of 2017, I was on a roll. I was sharing my memories of that year on Facebook and just getting into the "Summer of Love". I was intending to chronicle my highlights for that entire year and, at the same time, create the core of my still incomplete autobiography.
Just after I had shared my writings about the iconic Monterey Pop Festival of June 1967, Elandra and I left Hawaii for Thailand. I don't know what happened but something did. I stopped writing.
Now I am writing again. Obviously it is no longer the 50th anniversary but then 50 is just a number.
So, in celebration of the 52nd anniversary of the Summer of Love, here are more of my memoirs, picking up just before I left off writing in 2017.
To set the scene: it's the week before the Monterey Pop Festival.
I had joined Eric Burdon and The (New) Animals in November of 1966. After rehearsals, recordings, gigs in the UK and Europe, we had begun a tour of the US in February of 67, followed by tours of New Zealand and Australia.
By the end of May, we had returned to London, excited by what we had seen (particularly California), with much more confidence in ourselves and with highly expanded minds (and not just from the travel).
In late May/early June of 1967, we knew the next thing coming up would be a tour of Italy in the second week of June. Not too exciting. One morning, close to the end of May, I went over to John Weider's place. He was sitting there with a look of total excitement on his face.
"Guess what? There's going to be a big pop festival in Monterey at the Fairgrounds and Eric is demanding that Jeffries (Mike Jeffrey, our manager) gets us on the bill".
I could hardly believe my ears. This was just too much. We didn't think we would be back in California until the fall and now it looked like we would be back in a couple of weeks. And playing at the Monterey Fairgrounds, a magical place for John and myself. I was so excited.
Since the festival was in conflict with our tour of Italy, Mike Jeffrey leaned on the Italian promoter, who was kind enough to cancel some of the tour dates and we were confirmed for Monterey.
We flew to Italy. When we got there, there was no one who could speak English. I managed to establish communication with one of the promoter's representatives using French. Later, on several occasions, I met the promoter of the tour, who also spoke French.
I found that the promoter was very unhappy about having to cancel some of the gigs because we were going to Monterey. He was looking for someone from the Animals organization to whom he could communicate his displeasure and I was a perfect fit. During the few days we were in Italy, he took advantage of every opportunity to remind me how much money he was losing.
The tour of Italy was uneventful. We played Milan, Bologna and Florence. One thing that I never understood was that, in House of the Rising Sun, when Eric sang the line, "My mother was a tailor", the crowd would applaud and cheer. Never did find out why.
After the last gig, they dropped us off at Milan Airport at 2am. The first flight out wasn't until about 8am, but, since we were leaving for Monterey a day or two later, we needed to get home ASAP. We all stretched out on hard airport benches. All, that is, except Terry McVay (road manager), who spent the night drinking with some Italian porters at the airport bar.
I watched him for a while. It was amazing. Terry didn't know a word of Italian and the porters didn't know a word of English but there they were, carrying on and having a great time.
When we finally went out to board the plane, despite my exhaustion, I was inexplicably delighted to see that we would be flying on a de Havilland Comet of British European Airways (now British Airways). Years later, while writing this, I finally figured out why.
After the Second World War, Britain, despite having supposedly won, was a shattered country. Morale was low as the country began to rebuild. Although jet engines for aircraft were around before the end of the war, conventional wisdom was that they would not work for passenger aviation.
The de Havilland Aircraft corporation decided to build an aircraft that would haul passengers in an economic and workable way and so the Comet was developed and first flew in 1949. It was the first jet propelled passenger aircraft and was hailed as such. I would have been four years old and just starting to be aware of what was going on in the world, since I was already reading the daily papers.
The UK government, no doubt seeking to raise the morale of the country, made sure the development of the Comet was seen as a great triumph for British aviation and for Britain in general.
Even though I didn't set foot in an aircraft until I was nineteen years old, I had grown up loving airplanes and the Comet in particular. I had always wanted to fly on a Comet. Now I would – for the first and last time.
When we boarded the plane, Terry passed out. When we arrived at Heathrow, a couple of hours later, Terry was still out. Nothing I could do would wake him up and the flight attendants were getting concerned since everyone else had left the aircraft.
Terry had told me previously that this did happen to him occasionally. The only thing that would work would be to throw a glass of water in his face. I asked one of the flight attendants for a glass of water. She realized what I was going to do and tried to talk me out of it, but I insisted and she brought the water. I tossed the water into Terry's face and he stood up and walked off the plane as if nothing had happened.
The next day, June 15 1967, we flew out for Monterey. How well I remember that day! When we got to Heathrow, we found out that we were flying first class on TWA. I had never flown first class before and that added to my excitement. We flew to Chicago where we had to change planes and it was 102 degrees.
When we got to LA it was overcast and cool, mid 60s. It wasn't until I lived in Southern California for a few years that I realized that – in coastal areas – some of the worse weather of the year comes in May and June. Generally, there is a thick marine layer of cloud that may burn off in the afternoon but always returns by early evening. The famed Southern Cal. Sunshine all but disappears for a couple of months. In Monterey, the weather is like that most of the year.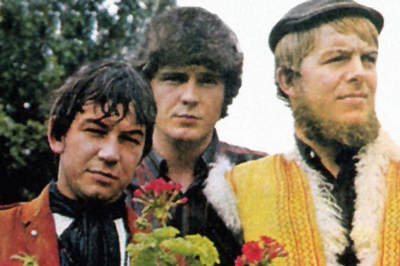 Kevin Deverich (American tour manager) met us and took us to a nearby airport hotel where he had made reservations. We were all exhausted and more than a little drunk from the plane. We entered the lobby and Kevin walked up to the front desk.
With the influence of our psychedelic adventures in New Zealand, plus the burgeoning Summer of Love in London, our dress was now full hippy. This would have some ramifications as we were about to find out.
The clerk, after a quick glance at us, informed Kevin that there was no trace of any reservation and that the hotel was full up. It was irritating but what could we do. We piled in the cars and went around the corner to another hotel. This time, Kevin got the keys to the rooms while we waited outside. We got in and went straight to bed. After all, it was 3am London time.