June 17th of this year represents the 50th anniversary of the second day (Saturday) of the fabled Monterey Pop Festival. Here's how I spent that day.
Because we were through with our performance on Friday night, we were able to kick back for the rest of the festival. This also meant we were free from all of the managerial and status shenanigans that went on backstage, of which there were plenty over the next two days.
The backstage setup at the Monterey Fairgrounds was like this:
As you might expect, it was a segregated area for those who had the appropriate badge (I still have mine somewhere).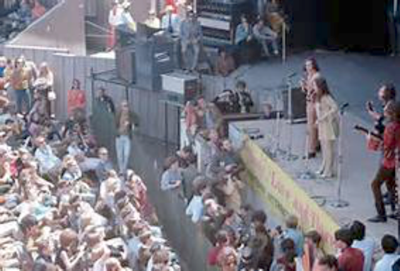 There was a seating area in the very front of the stage that was only accessible from backstage for performers etc. These were, of course, literally the best seats in the house.
Pic: Janis on stage. Notice seats for performers at the front. Notice also that the sun seems to be shining. One of the rare occasions when it did that weekend.
Meanwhile, behind the stage was a club house with a bar, a fireplace and closed-circuit TV so you could watch (and hear) what was happening on stage.
I spent most of Saturday moving between these areas. It was an opportunity to meet some amazing people.
I was very stoked to be able to shake the hands of and talk with Jerry Wexler and Ahmet Ertegun, both of Atlantic Records. These guys were greater heroes to me than just about any of the musicians there. After all, Ahmet was the founder of Atlantic, as well as the man who signed Ray Charles.
I saw Janis Joplin's historic performance but was dismayed by the quality of her band, Big Brother and The Holding Company. I heard Janis with them several times over the next months and every time I heard them the band was out of tune.
Very little from that day's music sticks in my mind, except … Otis Redding. I had met Otis a few weeks previously in London. He was friendly, articulate and very likeable.
Otis had not had the crossover success with white audiences that he deserved and both Atlantic Records and Otis' manager saw this festival as a great opportunity to make an impact. They were not wrong.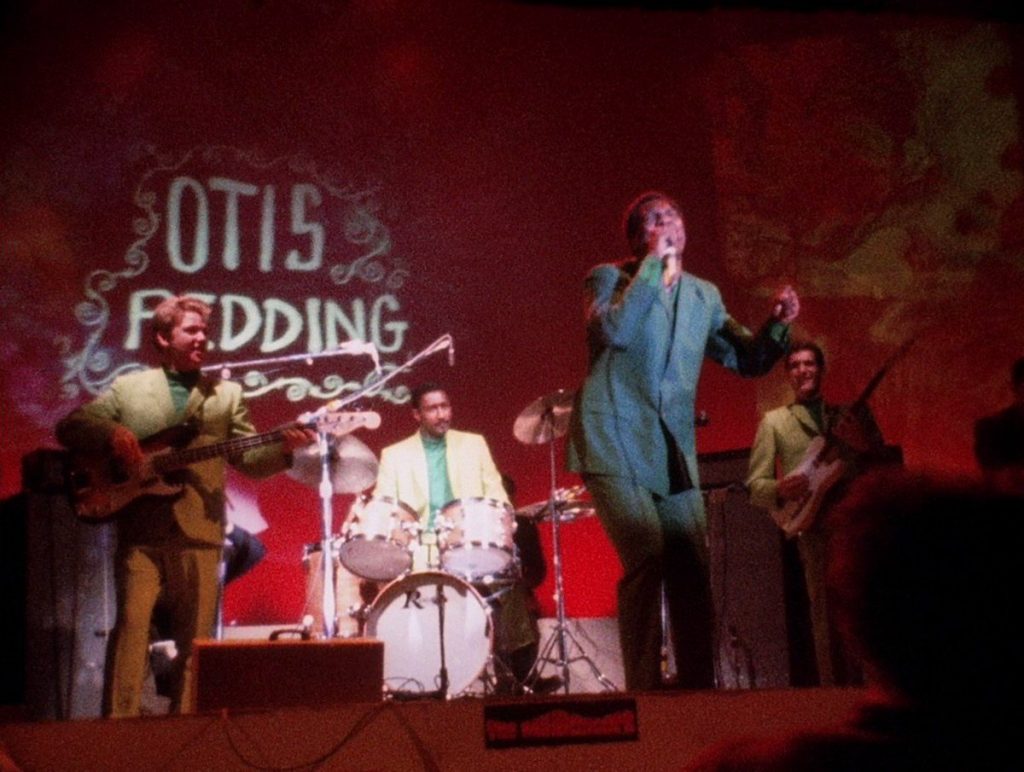 Although he normally traveled with his own band, Jerry Wexler from Atlantic Records had insisted that they bring the Stax Volt crew from Memphis for maximum impact in front of this important audience. This meant flying in Booker T. and the MGs, along with the Mar-Key's horns, later known as the Memphis Horns.
Otis kicked off with Sam Cooke's Shake at breakneck speed. In 2000, Wayne Jackson, the leader of the Memphis Horns, was on my radio show as a guest while on vacation on Kauai. He had never heard the recordings from Monterey and was flat-out amazed at how fast they played it.
The fact of the matter was Otis – plus backing musicians – killed it. The crowd were ecstatic and roared their approval.
For some reason, that night, I went on a downer. Probably because of something I ingested. All I knew was that, amidst all this peace and love, I felt horribly depressed.
At the end of the regular show Eric told us that there was an alternative stage and he wanted to go over there and jam. We piled into some cars and went a short distance to a what I thought was a high school football field that was covered in sleeping bags. It turned out to be a junior college. It must have been about 1am by the time we got there.
There was a light drizzle falling and it was not warm. We went up on the stage which was the back of a flatbed truck and played a few songs. Jimi was there too and he played. The music may not have been so great but I heard later that the people who were crashed out there really appreciated us showing up and playing.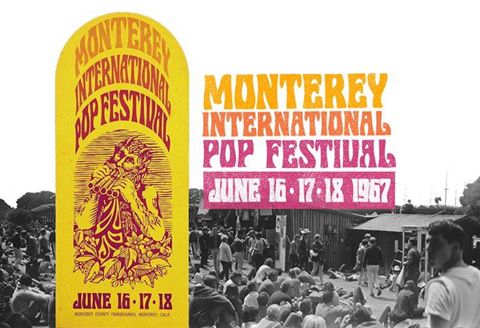 In 1991, I was driving around Monterey with some friends and we passed what looked like a high school football field. There was something familiar about it and I wracked my brain to figure out why. Suddenly, it hit me. This was the same field where we had jammed early on that Sunday morning.
I got back to the hotel on that Monterey night and I couldn't sleep. I was extremely depressed. The fact that Mitch Mitchell – in the next bed – was entertaining an attractive young woman, while I wasn't, didn't help.
I had rented a car earlier that day for no particular reason, so I got up, got into the car and started driving. It was still drizzling, and a grey mist was being backlit by the cold light of dawn that was coming up fast.
I headed for Highway One, which led down the coast towards Big Sur. This is one of the most spectacular drives in the world but that morning you couldn't see more than about 30 yards.
On the outskirts of Monterey, I picked up two hippies hitchhiking. They were on their way to LA and were very glad to see me, as there was no other traffic around. I drove them about 50 miles down the coast until we came across a cafe that had just opened. I bought them breakfast (they didn't have any money), put some gas in the car, then turned around and drove back, feeling a bit better.