In the spring of 1969, I was working as an independent arranger and producer in the recording studios of Hollywood. I got a call from Norm Ratner, a staff producer at Uni Records. I was Norm's go-to arranger and had already done several projects with him.
"Wally Holmes has a country-rock outfit that we're going to take into the studio. We'd like you to take a meeting with us and review their material."
Wally was a songwriter that Norm liked a lot. A few years later he would have an enormous hit with Rock The Boat by the Hues Corporation. Back then he was just another one of many struggling songwriters on the Hollywood scene.
I met with Wally and the band, named Future. Future consisted of three singers, all named Jim. I can't remember their last names. They did not play their own instruments but were essentially a vocal group with tight harmonies. They were a friendly bunch of guys and fun to work with.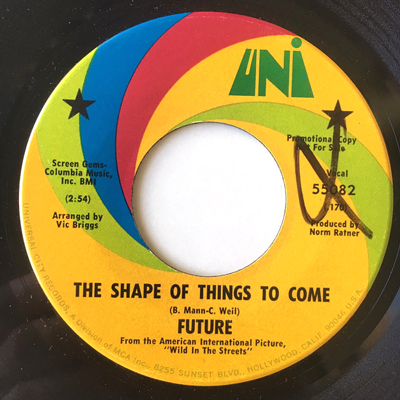 The first thing we recorded was a cover of the song Shape of Things to Come from the 1968 hippy exploitation Wild in the Streets, which was released as a single. However the version featured in the movie – by Max Frost and the Troopers, the band that starred in the film – was the hit and our version disappeared. In the pic of the 45 label, you can see my credit as arranger.
Nevertheless, Uni Records decided to proceed with a full album, which would be called Country Roads. The Byrds' album Sweetheart of the Rodeo had been released to critical acclaim the previous August (1968) and Country Rock was the hottest trend in LA. Uni, under the direction of music business legend Russ Regan, wanted a piece of the action.
I set up the first session for the album and called the musicians. Amongst others, I had Jimmy Gordon on drums and steel guitar legend Red Rhodes. But I couldn't get any of my regular piano players.
Someone suggested Mac Rebennack. "Mac who?" I said.
"You know, Dr John the Night Tripper. He's a good studio piano player."
Of course I knew Dr John. I had his first album which I loved. But I didn't know he was a studio musician. I called him and got confirmation.
In LA the session scene was so competitive that, barring mishap, you could count on everyone being set up, ready to go by the arranged time. Thus I was somewhat dismayed when 2pm came and went and the piano bench was empty.
There was nothing to do but to get started. I began to run the rest of the band through the material. The way the studio was set up, I was standing facing the band, while the grand piano was behind me.

Studio piano players in LA generally didn't play loud. There was no need as the piano was miked. So I was shocked when, about 15 minutes into the session, coming from behind me, I heard a piano being played loud enough to be heard in a Louisiana bar on a Saturday night.
Whoever was playing had ascertained where we were in the middle of the song and jumped in, finishing the song with the rest of the musicians.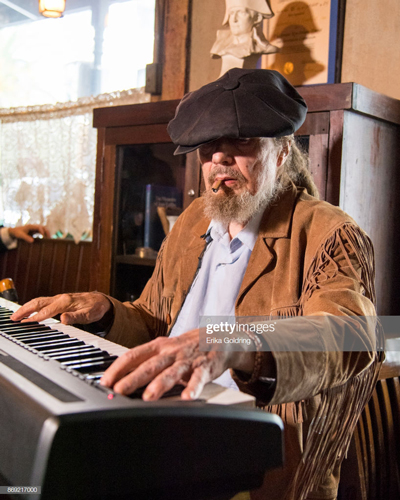 I looked around and saw this shadowy figure with a wool cap, dark glasses and a straggly beard pounding on the keyboard.
As the song finished, this person's head dropped forward, his shoulders hunched and he slumped forward. I don't know if his eyes were open or not but, if they were, he would have been looking down at his own lap.
He remained in this position until I counted in the song again and then resumed his piano player position. I presume he was looking at the music because his playing was just fine. He continued to alternate between these two positions for the rest of the session.
We may have exchanged a few words but we didn't much talk to each other. No negativity on my part, he was doing his job as expected.. He just didn't appear very communicative.
And that is how I came to meet Mac Rebennack, aka Dr John the Night Tripper, who died June 6.
RIP Dr John, loved your music.